Our very own Super Ed rescues Cottam Primary School!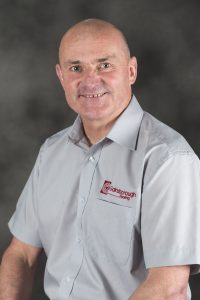 Cottam Primary School, in Preston, was struggling with their corridor and reception office carpet, as it was coming up in places and creating bubble trip hazards for the children as well as the staff.
Agnes, Cottom Primary School's Bursar contacted three local flooring companies in the Preston area, and all had told her that nothing could be done to repair the carpet and that it would need replacing.
This of course was a major concern for the school as there was no budget for purchasing a new carpet.
Luckily for the school, they then contacted Gainsborough Flooring and Director Eddy Brown went along to investigate. Having worked in the educational sector for many decades, and conscious of safety in schools, Eddy could advise what he believed would work for the school. In Eddy's expert opinion the fibre bonded contract carpet needed re-sticking and repairing – which Eddy did free of charge!
Agnes commented, "We're absolutely thrilled with the result and bowled over by the service from Eddy and Gainsborough Flooring. Eddy explained that we would see a line where the glue was but it would then be safe, which is all we wanted for the school and the pupils. We were extremely concerned after being told by the other flooring companies that it wasn't possible to fix, so to have Eddy and his expertise on hand to resolve this issue was such a relief. We would recommend Gainsborough Flooring to anyone, whether it's for a workplace carpet or your home. Service like that is hard to beat!"