Associated Weavers' carpet fitted for happy customer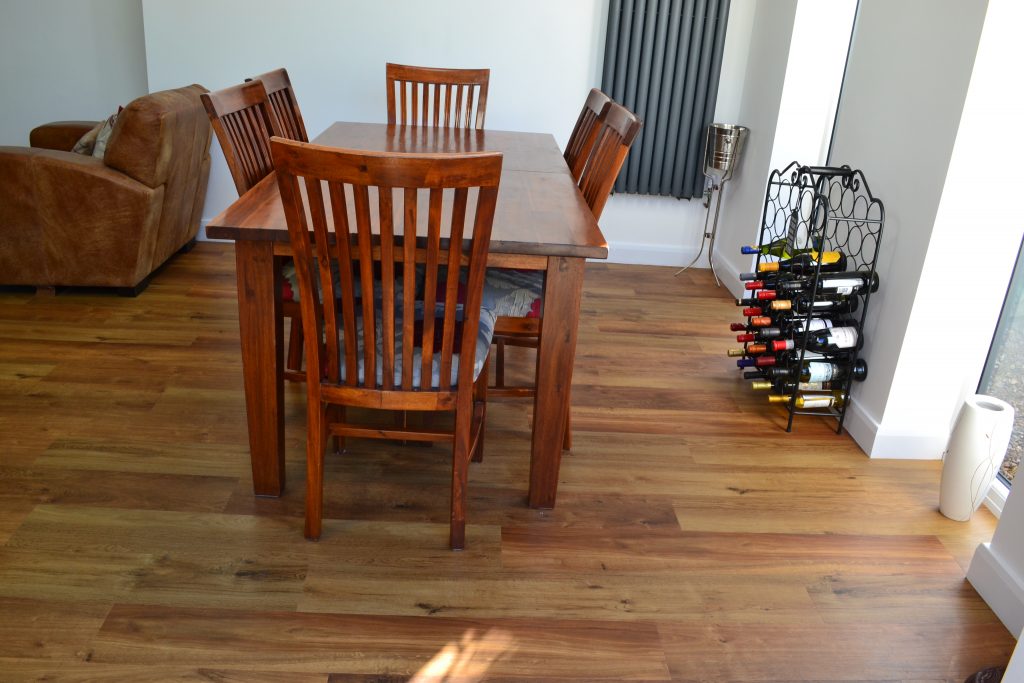 We recently fitted an Associated Weavers' carpet and Karndean flooring as part of a challenging but very rewarding project for Mr and Mrs Spickett.
They were looking for new flooring for their bedroom as well as their new kitchen/lounge area and were recommended by a friend who worked at Gainsborough Flooring to have a chat with the team – a decision they were very pleased with!
For their bedroom they were searching for a carpet that felt cushioned and luxurious underfoot, especially with bare feet. They achieved this using Cloud 9 underlay combined with Associated Weavers' Invictus Orion French Beige carpet which provided a fabulous padded feel. To give a contemporary feel to the room they selected a modern grey which is one of the most popular colours at present.
The kitchen proved rather more complex and challenging as Mr and Mrs Spickett had knocked through from their kitchen to the lounge area to create more space and were keen to select flooring in keeping with that. Mrs Spickett wanted to achieve a retro-modern look, combining her modern kitchen appliances with her retro sofa and dining table, with the flooring aiming to match the sofa and dining table.
The Gainsborough team walked into an empty shell due to a wall being knocked down, and the area was a bit like a building site with asbestos and uneven flooring from the ground being dug up for wiring, etc. There was also damp present so the team had to apply a damp proof membrane to the floor to prevent the flooring from being affected by the damp. The team organised the asbestos to be removed professionally and levelled the floor through screeding.
Once the underfloor was prepared with screed and glue the Gainsborough team fitted Karndean Van Gogh Classic Oak tiles. These were chosen as Mr and Mrs Spickett didn't want the flooring to be affected by the movement of table chairs during social gatherings in their stunning new kitchen and lounge area.
Mr and Mrs Spickett are so thrilled they have already referred Gainsborough onto fellow family members and commented, 'Love, love, love our new Karndean floor. Glad we went for the classic oak as it warms the whole room and has a natural, earthy feel to it. Gainsborough were great from the start with plenty of helpful advice along the way.'
They're so delighted with the finished products that they've asked the Gainsborough team to come back and carpet another room for them!
The images show some before and after shots of the project.